I've been using AffiliateWP for almost a year now. At first I was a bit skeptical of using a WordPress plugin for this purpose and moving away from a dedicated 3rd-party affiliate platform, but to my surprise it's been performing surprisingly well.
In case you didn't know, AffiliateWP is a premium WordPress plugin that will help you create, manage and grow an affiliate program for your own website. In a nutshell, it allows potential affiliates to sign up for an affiliate program directly on your website and start promoting your brand using unique links. In exchange, they are awarded a percentage or flat fee for each sale customers make through their affiliate links.  
One of the most attractive features that AffiliateWP offers is the fact that you can start your own affiliate program directly from your WordPress dashboard, without relying on 3rd party platforms. This means faster deployment, ease of use (assuming you already know how to use WordPress) and competitive price compared to complex third-party solutions. 
Starting your own affiliate program is a fantastic way to scale your business, grow brand promoters, improve SEO and build an empire of dedicated followers. 
How I reviewed AffiliateWP?
All plugins and services reviewed at WooTales.com have been personally bought and thoroughly tested through everyday use for months or years. This is also the case with AffiliateWP, which I set up and managed for a client who was looking for a new affiliate system to replace a third-party solution.
AffiliateWP functionalities
The folks behind AffiliateWP thought of almost everything when it comes to features. Even though the main plugin doesn't provide all the bells & whistles, there are plenty of add-ons that will do the job. Most of them come free of charge. But more on that later! 
Here are just some of the features AffiliateWP boasts: 

Having an easy-to-use sign-up form for affiliates on the front-end is a must. AffiliateWP offers a choice of automatic and manual approval of affiliate applications, based on the settings you choose. 
Most companies like to keep their affiliate program private. This is strongly recommend in order to increase the chance of having your product promoted by right affiliate marketers. In addition, it makes it appear more exclusive – which in turn attracts higher quality affiliates. 
Affiliate area is automatically created as a page after AffiliateWP WordPress plugin is installed. This is the area affiliates will use to check statistics, sales, find creatives, generate affiliate links etc. In case you want to define the affiliate area page by yourself, you may use the shortcode [affiliate_area] on any page of your choice to make it…Yes, you guessed right – affiliate area page!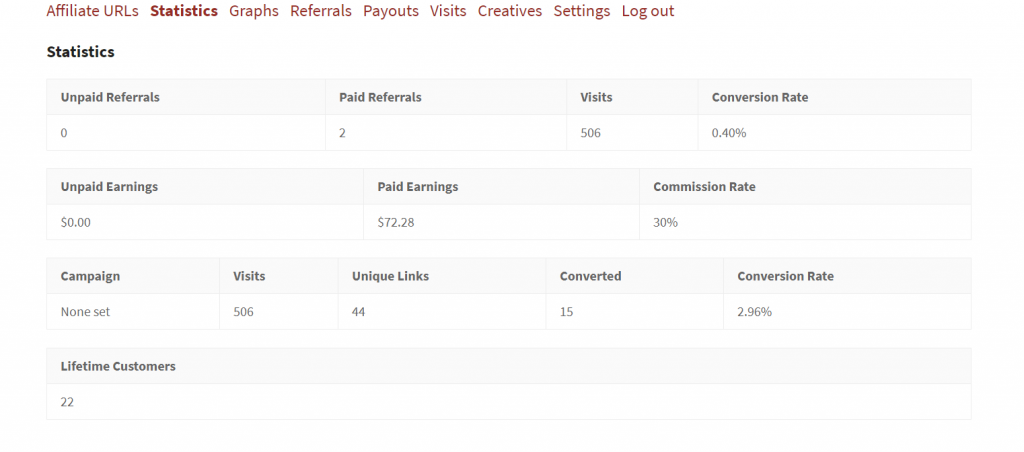 AffiliateWP natively support integration with a number of plugins of different functionalities:
WooCommerce
Easy Digital Downloads
Restrict Content Pro
Stripe
PayPal
Ninja Forms
Gravity
Zippy Courses
Paid Memberships Pro
Contact Form 7
WpForms
LifterLMS
Caldera Forms
Formidable Forms
GIVE
Paid Member Subscriptions
MemberPress
WP-Invoice
Sprout Invoices
Member Mouse
s2Member
Easy cart
How to set up AffiliateWP
Once you purchase the plugin, head to the WordPress admin area and add the plugin by choosing Plugin > Add New. Alternatively, upload it via FTP client directly to the wp-content/plugins folder in your WordPress installation. Don't forget to activate it once installed. 
If you bought the plugin, you'll receive a license key that needs to be added to Affiliates > Settings. Let's get into the nitty gritty details now! 
First things first – as AffiliateWP integrates natively with many plugins, you'll need to choose an integration of choice. Navigate to Affiliates > Settings > Integration tab and simply check one or more integrations from the list and hit Save. 
Now you're ready to set up the basic information about your affiliate program, by choosing the general tab inside Affiliates > Settings. I won't be covering all of the options, but the most basic ones you want to focus on are: 
If you are lucky enough to be using MailChimp, Active Campaign or Convert Kit, Opt-in Forms section in AffiliateWP settings lets you award affiliates for each opt-in you receive from customers referred by the said affiliates. 
Just choose the integration of your choice, enter the opt-in referral amount and create a message to be shown upon a successful opt-in. Alternatively, set the referral amount for opt-ins to $0, but still have customers link to your affiliates via Lifetime Commission. 
Ingegration with other email services
If you are using other email services than the ones listed above, integration is still possible either through a separate add-on or via Zapier. Your mileage may vary.
All the emails sent by AffiliateWP can be set up here. These include: 
Choose which emails to send to affiliates, format them using WordPress, HTML and/or a number of template tags specific to AffiliateWP.
By default, all the options on this page are unchecked. Let's go through the most important ones to have your affiliate program up and running in no time. 
AffiliateWP offers enough features to create and run an affiliate program. Nevertheless, for those looking for more functionalities and integrations there are a number of add-ons available to introduce new features. 
These add-ons are basically separate plugins that integrate well with the original AffiliateWP plugin. Currently, there are over 60 add-ons available – but don't worry, you are most likely to need just a handful even if you're running a robust affiliate program. 
There are three different type of add-ons available for AffiliateWP: 
Free-addons developed by AffiliateWP that come free of charge with every version of the plugin. 
For more advanced needs such as lifetime commission, one click affiliate payments and other options created to increase revenue and save time. Developed by AffiliateWP team.  
These add-ons were developed over longer time period by independent 3rd-party companies. Most of them are focused on integration between 3rd-party plugins and AffiliateWP.  
Due to the sheer number of available add-ons, I will cover just some of them. If you want to see the full list of AffiliateWP add-ons, you can do so here. 
There are also a number of snippets for AffiliateWP available on GitHub that can come in handy.
Without further ado, let's go over some of the most important AffiliateWP add-ons. 
There are seventeen free add-ons to help improve your affiliate program without spending extra cash on premium ones. Truth to be told, you would expect some of these features to be natively supported in the main plugin. In order to make AffiliateWP more lightweight for light users, having simple features separated in more plugins is arguably a good trade-off. 
As the name implies, Allowed Products add-on lets you specify which products are allowed to generate affiliate commission. Even though AffiliateWP natively offers an option to disable commission for each product individually, this is not always practical. More so if your store contains hundreds of products and you want to allow affiliates to earn commission only for some of them. 
AffiliateWP without any add-ons is already powerful enough for average user use as it lets you define a global commission rate that's applied to all affiliates or on per-affiliate basis. Affiliate Product Rates provides additional features to build on top of existing ones, like setting different per-product commission rates on per-affiliate level. This is perfect for those looking to offer more (or less) commission to only some affiliates AND for only some of the products.  
Order Details for Affiliates
As the name implies, this add-on is used to allow affiliates to view details of orders they referred in their affiliate dashboard. Some of the options include restricting this feature to defined affiliates, sending an email to affiliates with orders specifics and choosing which part of order information do you want to display to the affiliates.
Other free add-ons currently included for AffiliateWP: 
Blocks
Starting Affiliate ID
Affiliate Area Tabs
Affiliate Info
External Referral
Links
Allow Own Referrals
Show Affiliate
Coupons
Affiliate Area
Shortcodes
Leaderboard
Sign Up Bonus
Store Credit
Force Pending
Referrals
WooCommerce
Redirect Affiliates
Checkout Referrals
Pro Add-ons (by AffiliateWP team)
At the time of writing, AffiliateWP team has developed fourteen Pro add-ons to help you get the most out of your new affiliate program. Most of the functionalities provided by this set of add-ons should be essential for all affiliate programs and I highly recommend going for the Pro version to get all these powerful add-ons. 
Lifetime commission! This is a huge deal for affiliates looking to ensure their hard work pays off. This add-on connects the affiliates with their customers using the customer's WordPress ID or email address to ensure affiliates always receive commission for a particular customer. Tracking is ensure even if customers clear cookies, use a different computer, use a guest checkout or even change their email address in your system. 
In addition to turning on this option for only some or all affiliates, there is so much more to play with: 
Running a subscription website or offering any type of recurring payments? Then you probably need this add-on. Instead of providing commission just for the initial subscription order, Recurring Referrals allows affiliates to receive commission for every renewal order through the entire subscription cycle. It supports a number of integrations and plugins, including the official WooCommerce Subscriptions plugin. 
Another add-on for incentivizing affiliates to earn more and increase your revenue in the process. The idea is simple – offer better commission to affiliates who earn more. Set up a threshold after which an affiliate automatically gets bumped to the next tier with higher commission rates. The threshold can be based on revenue earned or the number of referred customers.  
Most affiliates prefer to get paid via PayPal. If you're just starting, paying out manually is fine, but with the increasing number of affiliates you will truly appreciate the power of PayPal Payouts add-on. With just a couple of clicks, all the affiliates will be paid automatically through PayPal account. 
Note: PayPal Payouts add-on
For this add-on to work, you need a business PayPal account with API access.
If you already use Zapier, then you know how powerful it can be. Zapier for WooCommerce add-on for AffiliateWP opens a lot of possibilities for all you automation freaks, using both Actions and Triggers from Zapier to make this happen. Some examples of possible uses: 

Check out other Pro add-ons from AffiliateWP:
REST API Extended
Affiliate Landing Pages
Direct Link Tracking 
Custom Affiliate Slugs
Signup Referrals
Affiliate Forms for Gravity Forms
Affiliate Forms for Ninja Forms
Pushover Notifications
Affiliate Dashboard Sharing
There are currently more than thirty 3rd-party add-ons available for AffiliateWP, developed and supported by developers outside of the AffiliateWP team. Functionalities of these add-ons are very specific and most likely not needed for an average user, but they can come really handy in some cases. 
Cross Domain Tracker for AffiliateWP
Cross Domain Tracker for AffiliateWP is a competitor of the official free External Referral Links add-on for AffiliateWP. Both add-ons are used to track referrals from external, WordPress-based websites, but this 3rd-Party add-on provides additional features: 
Simply put, this nifty add-on lets you pay your affiliates using cryptocurrencies. Crypto for AffiliateWP supports many coins (BTC, Ethereum, BTC Cash, Litecoin and thousands of other cryptos) and offers bulk payments, adding multiple currencies to AffiliateWP wallet on the backend, real-time exchange rates and MetaMask support (for Ethereum only). 
There is always a way to motivate the affiliates to make more money for you. Variable Rates add-on is one of the ways to do so, by increasing commission rate based on the amount of purchase. An example of a setup: 
For all orders between $0 and $50, set commission rate to 5%
For all orders between $50.01 and $100, set commission rate to 10%
For all orders between $100.01 and $200, set commission rate to 20%
For all orders above $200, set commission rate to 30%
There are many ways to play with settings to make sure it works well for your own affiliate program.
Statistics are natively offered by AffiliateWP are adequate for most users, but if you are truly serious about your affiliate program then having in-depth statistics for your affiliates is a must. Advanced Statistics add-on has the following features added to statistics for each product: 
Unique visitors
Conversion rate
Refund rate
Earnings per click
Commission
Sales
All the information can be found easily in the affiliate area on the front-end.
The list of 3rd-party add-ons for AffiliateWP is steadily growing. Below are the rest of them I haven't had a chance to mention.
External Tracker for AffiliateWP
ConvertKit integration
Sendy integration
Upsell plugin integration for AffiliateWP
SendOwl integration for AffiliateWP
Social Warfare – AffiliateWP
GamiPress
WooNinjas Salesforce WP to Lead with AffiliateWP
WP1099
Payout Statements
Event Espresso 4 AffiliateWP Integration
Multi-level Affiliates
Affiliate Groups
Group Switcher
Advanced Payouts
AffiliateWP Ranks
ActiveCampaign
Product Affiliate Links
Easy Social Share Buttons
Pay as Points
Performance Bonuses
BuddyPress integration
Multi-level Marketing
GetResponse integration
E-Junkie Affiliate Import
MailChimp
Affiliate Banners Widget
AffiliateWP plugin for WooCommerce comes with a generous 30-day Money Back Guarantee. According to their refund policy, you can try it out risk-free for 30 days to confirm it's the best solution for your business. If you discover it doesn't work for your business or a specific set up you have, they will refund your money after 30 days of your original purchase. 
With that out of the way, let's take a look at AffiliateWP pricing model. 
AffiliateWP offers Personal ($149), Plus ($199), Professional ($299) and Custom plans. 
The only difference between Personal and Plus plans is the number of websites you can use them on – 1 for Personal vs 3 for the Plus plan. They both come with 17 official free add-ons, regular plugin updates, email support and all the core features included. 
And then there is the Professional plan. Pro add-ons (all 14 of them) developed by AffiliateWP developers are available ONLY with the Pro plan. And this includes all the future pro add-ons, as well as the 17 free-addons, 10 sites usage, and of course regular updates & email support for a year. Keep in mind that Pro add-ons cannot be purchased separately and some of them might be essential for your setup. Check out the Pro add-ons here before making a decision, although upgrades to a better plan are also available. 
The Custom plan is available for big companies, developers and agencies seeking specific requirements and customized solutions. More info on plans is available here.
AffiliateWP is probably the best solution in form of a plugin for tracking affiliate sales on your WordPress-based website. If you're familiar with WordPress, setting up AffiliateWP should be a breeze and there is no need for any coding experience to have it up and running in no time. It is very easy to use, their tracking system is well-made and it works properly even on websites with aggressive caching – which is a huge plus.
The only caveat is the fact that AffiliateWP plugin is just that – a WordPress plugin. While it gives you many more options than a 3rd-party affiliate system would do, there might be a time when it's not completely compatible with some of the other plugins you're using, or there are conflicts with new versions of WordPress or WooCommerce that may take some time to be discovered, fixed and updated. Even though this is in no way a unique issue with AffiliateWP plugin, but the nature of running a WordPress-based website.
Keep that in mind, but don't let it stop you from trying it out – it IS a fantastic tool that will help you bring more revenue as long as your affiliates are motivated enough. Get AffiliateWP here.